feat. Marimba Ensemble Japan and
| | |
| --- | --- |
| Saturday 22nd // 7pm | 10 € / 5 € |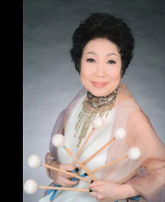 Keiko Abe personifies virtuosity in her art as a marimbist and in her warm and generous personality. Her musicianship, combined with her rare creative power, acute sensitivity and virtuosic technique has inspired countless percussionists, musicians, and audience members all over the world. In the many facets of her career − as a teen-age xylophone soloist on live radio; a first call studio and orchestral musician; a popular music television and radio personality; a visionary, commissioning serious contemporary music for the marimba; a composer, performer, and teacher − she exemplifies excellence and musical genius.
Keiko Abe'ls personal artistic vision led her to work with Yamaha in creating a new instrument, the five octave concert marimba, that gives voice to her inner music and has enriched and inspired composers, marimbists and other marimba makers.
A member of the Percussive Arts Society Hall of Fame, Abe has over 86 of her own compositions in her repertoire. She has performed as a concerto soloist in over 200 orchestra concerts, over 3000 solo concerts, over 500 chamber music concerts, and over 50 concerts with Jazz musicians, all around the world. She has recorded over 50 CDs on the Denon and Xebec labels.
The talented young musicians joined together to establish Marimba Ensemble Japan in 2004 because of their love and appreciation of the Marimba sound and artistry of Keiko Abe. Dedicated to performing Abe's compositions, their activities have spread internationally and include the premieres of "Reflections on Japanese Children's Songs III", "Prism Variations", "WAVE Impressions II" and "Tambourin Paraphrase IIIa".
Main activities are:

| | |
| --- | --- |
| 2005 | Opening concert at the World Marimba Competition Shanghai (China) |
| | Keiko Abe & Academy Percussion Ensemble Concert (Korea) |
| 2006 | Percussive Arts Society International Convention (U.S.A.) |
| 2007 | Belgium International Marimba Festival (Belgium) |
| 2008 | Taipei International Percussion Convention |
| 2010 | YANAHA Hall opening concert in Tokyo (Japan) |
| | 10th Anniversary Concert of the Marimba Village in Kumamoto (Japan) |
The Percussion Ensemble Stuttgart was founded in 1982 by Professor Klaus Treßelt. Today, the ensemble has kept its name and consists of a fluctuating mix of both advanced and former students from the university's percussion class.
The ensemble has developed a varied program that is performed on exotic drums, cymbals and gongs as well as other percussion instruments from all over the world. The program comprises transcripts of original baroque music through to African drum music and theatrical finger ballet and also includes the classical percussion ensemble literature.
Under the guidance of their lecturers: Marta Klimasara, Klaus Dreher and Jürgen Spitschka the students participate in regularly changing line ups. In addition to the pure percussion programs, the students can also take part in other line ups as, for example: percussion groups, in ensembles for contemporary music as well as with string orchestras or in larger symphonies.
This Concert is sponsered by
Tickets avaible at
www.mh-stuttgart.de
or
Concert will be held at the University of Music and Performing Arts
Urbanstr. 25, 70182 Stuttgart, GERMANY
Enlarge Map